View Award - Starfleet Survival Cross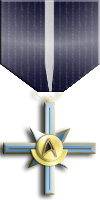 Award Level: Special Honour
Non-Combat/Combat: Both
Other Restrictions: Special Circumstances (See Description)
Awarded to Starfleet personnel who have been either stranded in an inhospitable environment or held captive by enemy forces for a period of no less than three months. In situations where the captivity or environment are especially arduous (i.e. extremes of temperature or weather harmful to the character's species, torture, etc.) the time requirement may be shortened or practically eliminated.

Category: In character
Awarded: 14 times
Lieutenant JG Ryan Kade III


Mon Nov 2nd, 2020 @ 8:39am

For surviving events in Know Thy self
Ensign Miraj Derani


Mon Nov 2nd, 2020 @ 8:39am

For surviving events in Know Thy self
Lieutenant Nevada McKay


Mon Nov 2nd, 2020 @ 8:39am

For surviving events in Know Thy self
Lieutenant JG Issac Drake


Mon Nov 2nd, 2020 @ 8:39am

For surviving events in Know Thy self
Lieutenant Tate Sullivan Ph.D.


Mon Nov 2nd, 2020 @ 8:38am

For surviving events in Know Thy self
Ensign Olivia (Carter) Voight


Mon Nov 2nd, 2020 @ 8:38am

For surviving events in Know Thy self
Lieutenant Commander S'hib


Mon Nov 2nd, 2020 @ 8:37am

For surviving events in Know Thy self
Lieutenant Colonel Azhul Naxea


Mon Nov 2nd, 2020 @ 8:37am

For surviving events in Know Thy self
Commander Sthilg


Mon Nov 2nd, 2020 @ 8:37am

For surviving events in Know Thy self
Lieutenant Commander Turak


Mon Nov 2nd, 2020 @ 8:37am

For surviving events in Know Thy self
Commander Arrianna Salannis an Vantar


Mon Nov 2nd, 2020 @ 8:37am

For surviving events in Know Thy self
Commodore Phoenix Lalor-Richardson


Mon Nov 2nd, 2020 @ 8:37am

For surviving events in Know Thy self
Captain Gary Taylor


Mon Nov 2nd, 2020 @ 8:37am

For surviving events in Know Thy self
Lieutenant Commander Aurelia Taylor


Mon Nov 2nd, 2020 @ 8:36am

For surviving events in Know Thy self