Welcome to the U.S.S. Elysium!
USS ELYSIUM NCC 89000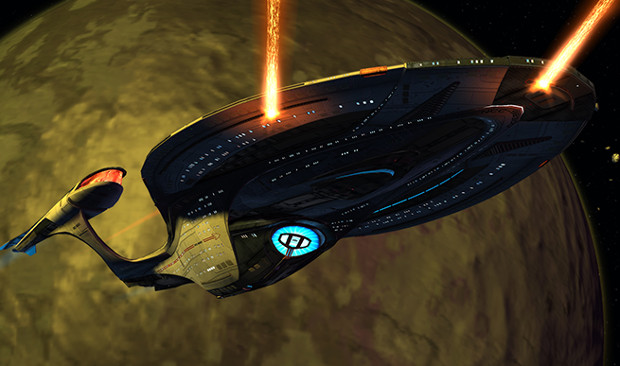 "We know what we are, but know not what we may be" - William Shakespeare
The U.S.S. Elysium is the first of her class and apart of Starfleet's Ninth (Obsidian) Fleet, under the Command of one the youngest CO in the Fleet, the Elysium's role is one of diplomacy, scientific discovery and support in times of need. Boasting the most advanced technology available to the Federation and being fully holographic capable with a Ship AI to assist with basic functions.
Elysium is home to some of the brightest minds in Starfleet as well as some unique positions, there is the Office of Internal Affairs and the elusive Department of Temporal Investigations which allows the Elysium to respond to any issue in her vicinity or threat to the timeline. There is also the first of 4 mobile branches of Starfleet Academy where cadets from all around the Federation can get hands-on experience aboard a fully operational Starfleet Vessel under the watchful gaze of an official representative of the Academy.
Our story so far...
Previously on the USS Elysium,
In 2394, and the Elysium was lost. But now, the Elysium returns home, without the Admiral. And the crew, led by Commander Phoenix Lalor, faced an uncertain future ahead. With a crew which is a mix of old and new faces, the Crew of the Elysium sets out to reclaim their place in the Fleet, and to show that the trust Sharr had placed in them was not misplaced. After a year of threats, mutiny, betrayal and weird encounters, the Elysium has survived their first 12 months under the Command of now Captain Lalor.
We join the Elysium as they enter a new year, 2396, though this New Year brings more challenges and more horrors...
Ship Awards
James T. Kirk CO of the Year - February 27, 2019 Awarded to Captin Lalor for the year of 2018
Character of the Year - February 27, 2019 - Awarded to Liselle Qwyyn for the year of 2018
William Riker XO of the Year - February 1, 2018 Awarded to Commander Gary Taylor for the year of 2017
Platinum Sim of the Year - January 31, 2018 - Platinum Sim of the year 2017
September 2017 - GOLD unit of Merit!
May 2017 - Silver unit of Merit!
March 2017 - GOLD unit of Merit!
USS Elysium follows the Destruction of Romulus timeline in accordance with Fleet Council Measure 046.
Important Fleet Links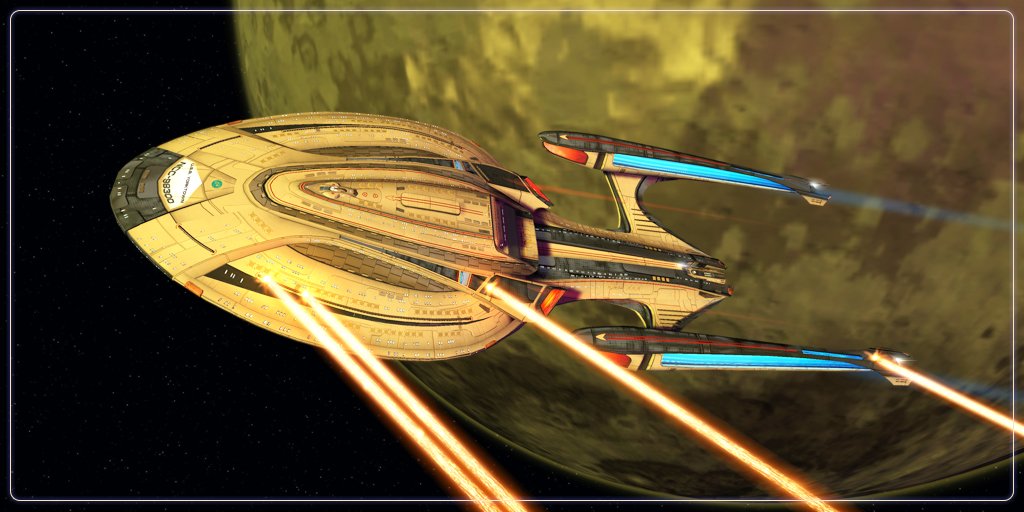 Please see this link for our site's privacy policy
Latest News Items
Posted on Fri Oct 30th, 2020 @ 7:56am by Captain Phoenix Lalor in General News
One of our very own crew has featured in a Character spotlight for the main OF page:

https://www.obsidianfleet.net/2020/10/29/character-spotlight-miraj-derani/
Posted on Tue Oct 27th, 2020 @ 6:32am by Captain Phoenix Lalor in General News
Hello all

Please congratulate Lieutenant Commander Turak - who celebrates 2 years with us today!
Posted on Tue Oct 27th, 2020 @ 6:14am by Captain Phoenix Lalor in General News
Good Morning,

This morning the following players and their myriad of characters were deactivated and removed from the USS Elysium.

Gabby aka Gallia Norris
Drea aka Anje Brett

We wish them well and they are welcome to reapply at any time to return to the game, though they will need to understand that the positions they once held may no longer be available.

Regards

Captain Lalor
Posted on Sun Oct 25th, 2020 @ 3:44pm by Captain Phoenix Lalor in General News
Good morning,

OOC: MISSION CLOSED: SEASON 4: Episode 1: Know Thy Self! - Any left overs will be sent to History Speaks

OOC: MISSION NOW OPEN
Season 4: Episode 2: Rest And Relaxation - Posting May now commence

Regards

Captain Lalor
Posted on Thu Oct 22nd, 2020 @ 6:25am by Captain Phoenix Lalor in General News
hi everyone

Please welcome back Andrew! and his new character Private Christian Laknema! https://usselysium.com/index.php/personnel/character/157
Latest Mission Posts
Mission: MISSION 0 - History Speaks
Posted on Fri Oct 30th, 2020 @ 5:23am by Commander Arrianna Salannis an Vantar & Consul Vanessa Alcean an Vantar & Lieutenant Victor Barclay de Tolly
Lady Vanessa looked around engineering dressed in another one of her more regal clothing. She required a favor from the Chief Engineer, one that would be of great help to the Captain. She approached a crewmember in the engine room. "Pardon me, I'm looking for Lieutenant de Tolly. Is he…
Mission: Side Mission: The Aftermath of Kronos
Posted on Thu Oct 29th, 2020 @ 12:31pm by Commander Arrianna Salannis an Vantar & Lieutenant Victor Barclay de Tolly
Kayala suddenly woke up. She suddenly appeared in this place, she didn't know where she was. Confusion. She activated and stepped out of the regeneration alcove. She once was in her bed with her husband... Now she was... Borg... but...

She was thinking...

She heard voices... a pull to... be…
Mission: Side Mission: The Aftermath of Kronos
Posted on Thu Oct 29th, 2020 @ 11:47am by Commander Arrianna Salannis an Vantar & Lieutenant Victor Barclay de Tolly
Kayala was walking through the magnificent gardens near the Imperial Palace. Just trying to see and breathe something beautiful. She wanted Salom to meet her there. She could finally love again without being borg.

Salom got lost at first but finally made the destination. He saw Kayala first. She was…
Mission: Side Mission: The Aftermath of Kronos
Posted on Thu Oct 29th, 2020 @ 5:48am by Commander Arrianna Salannis an Vantar & Lieutenant Victor Barclay de Tolly & Commander Runyon & Cassius Blaire
The Alindari never built anything simple. Everything had to conform to their elegant artistic tastes, even the great hall of the senate. It was a large rotunda across from the avenue of the martyrs of Alindar. A magnificent obelisk that stood as a memorial to those lost on the homeworld.…
Mission: MISSION 0 - History Speaks
Posted on Thu Oct 29th, 2020 @ 3:52am by Lieutenant Alicia Kelea-Salik & Lieutenant Commander Savar cha'Salik hei-Surak Talek-sen-deen & Lieutenant Commander Jessica 'Valkyrie' Vaii
*Dream Sequence*

Jessica was dragged towards a Terran Slaver. "You're still resisting, come now, Commander. Everyone else has bowed to the Terran Empire. Even your Captain, even your Federation." The Slaver noted.... "All that's left is you... All that's left is you."

"I'm going to let your own Captain torture…
Latest Personal Logs
Posted on Wed Oct 28th, 2020 @ 12:08am by Commander Aurelia Holmes
"Computer, record for my personal log".

She thought hard as the response arrived, =^="Computer ready"=^=. Lia took a deep breath, "Begin, well this is a bit unusual. Because finally I have some time to record a log, but my thoughts and feelings make it a difficult one to talk about.…
Posted on Thu Sep 24th, 2020 @ 7:36am by Lieutenant Olivia (Carter) Voight
Olivia had been busy with a few things prior to the away mission when they had gone back in time and never got around to finishing up the medical interest testing for the Gunny's daughter and a refresher for him on a few things at the same time. There were…
Posted on Thu May 28th, 2020 @ 9:01am by Lieutenant Commander Turak
As he entered his quarters, he decided a personal log was necessary. Turak spoke, "Computer, start personal log." As he sat down on his couch he said, "well, today was full of medical appointments and work was boring - the first appointment was with medical for my annual checkup.....and sure…
Posted on Thu May 21st, 2020 @ 11:51am by Lieutenant Commander Jessica 'Valkyrie' Vaii
To: Captain Phoenix Lalor
From: Lt. Commander Jessica Vaii, ACAG
Subj: Squadron Nickname

Captain Lalor,

I am requesting permission to change a major aspect of our squadron. Upon approval, we will change the squadron to the following name.

45th Space Superiority Squadron. "Flying Tigers."

The reason I am advocating this…
Posted on Mon May 4th, 2020 @ 4:23pm by Commander Anje Brett
:Begin log:

Well, no nice way to say it, this freaking sucks. Been blundering through the void for days now, no light to be seen, and Quinn gone back to the continuum, where she's half expecting to catch a lot of shit about being with me. Not enjoying this region…